Here's our regular roundup of news from car dealerships around the country! Don't forget, whether you're a dealer, a mechanic or a valet you can get all kinds of traders insurance at great prices by comparing quotes at MotorTradeFast.co.uk
Lookers already operates a full Audi dealership in Glasgow at Braehead, which was opened by Audi in 20014 with a three-storey showroom and 23 service bays.

The investment in Hamilton by Lookers, which bought the Lomond Audi group in Scotland in 2012, has created 30 new jobs and is one of the largest Audi Approved used car sites in Europe. Lookers said it is one of the first fully sustainable and environmentally-friendly sites in the UK and it includes biomass heating and water purification systems.
Curated from Lookers opens Audi used car superstore near Glasgow
Carbuyer offers tips for buyers on choosing a local dealer – would you agree with their suggestions?

Many buyers are tempted to just go to their closest main dealer and simply see what they have in stock. The benefit of looking further afield is that there will almost always be a dealership that significantly undercuts your own – sometimes by several thousand pounds.

Carbuyer has listed the pros and cons of using a car broker. It might be the best way to buy a car for some people, but it isn't necessarily the most straightforward and it definitely isn't without some downsides. Read on to find out more.
Curated from Used car brokers – the pros and cons | Carbuyer
What Car finds dealers cutting discounting in the face of continued strong demand from buyers:

The analysis was carried out by What Car?'s Target Price team, which provides buyers with anticipated discounts available across hundreds of new models up to the end of May 2015.

What Car? editor Jim Holder said: "Dealers need to turn a profit and, while demand remains high due to strong consumer confidence, they feel able to stand firm.

"A reduction in average discounts from £2564 to £2360 might not sound a lot, but it's been a steady trend for a number of months now and consumers will have to get used to it.
Despite fewer discounts, markdowns topping 20% can be negotiated on some models. The largest reductions are negotiable on estate, executive and luxury models; attracting discounts of 10.5, 11.14, and 12.67% respectively.
The analysis by Britain's biggest car buyer's guide represents the strongest evidence yet that heavy discounting will continue to subside, especially if new car sales remain buoyant.
Curated from New car discounts shrink as sales boom continues – What Car?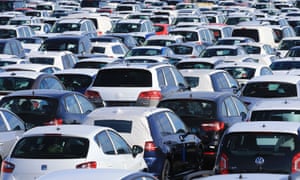 Yet the Guardian worries that slowing growth in sales is a sign of impending doom for dealers:

Car sales have boomed during the recovery. Like smartphone purchases and hotel bookings, the improving figures for the manufacture and sales of cars have been one of the main props of Britain's post-crash boom.

Looking at the month-on-month data is always dangerous when it is skewed so much by the biannual registration surges. That said, there is a clear downturn in sales growth when the 7% rise from April to May (185,778 to 198,706) is compared with a 9% rise in the same period last year (176,820 to 194,032).

An even clearer picture is provided when the 2.4% annual figure is compared with last March, when car sales were racing along at an annual rate of 17.7%.
Curated from Slowdown in new car sales suggests UK economy may be losing a key driver | Business | The Guardian
Meanwhile, over the pond, the picture is looking very rosy indeed, reports Forbes:

Auto companies today reported their sales results for June – and as projected, Americans continued to flock to new-car dealerships with wide-open checkbooks; total new-car sales for the first six months haven't been higher since 2005, according to Kelly Blue Book.

With half the year behind us, June sales solidified a variety of car-buying trends, knowledge of which might help those considering a new vehicle to navigate a better deal in this high-demand environment.

Most important, get ready for new-age sticker shock: the average price of all new #vehicles sold in June was $33,340 – an all-time record for the month, said KBB. Want a 2015 Ford F-150, that of the military-grade aluminum body and one of the hottest-selling vehicles in the country? Show up at your friendly Ford dealer with an average of $44,100, a shocking $3,700 more than last year.
Curated from Auto Sales Still Blistering — And You're Not Gonna Believe The Average Price Of A New Model – Forbes