We've been digging into the news this week and one of the hottest topics in the autmotive world this week is electric cars. Hotly tipped to be the future of driving we are seeing ups and downs in sales but innovation and a wider choice for consumers. What do you think?
The Guardian think we're on the brink of a revolution, despite lower sales than expectation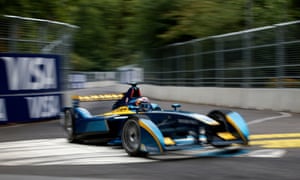 Carlos Ghosn, the fast-talking head of the Renault-Nissan alliance, is not keen to be drawn on targets for electric car sales. A 2011 prediction of 1.5m Renault-Nissan electric vehicles by 2016 turned out to be wildly optimistic. The group just passed the 250,000 mark.
Ghosn was not alone. President Barack Obama predicted 1m electric cars in the US by 2015: in January the total was 280,000. Virgin boss Richard Branson, adept as ever at grabbing headlines, said this week that "no new road cars will be petrol driven" within 20 years, calling combustion engines "complicated and antiquated".
Curated from Are we on the brink of an electric car revolution? | Environment | The Guardian
Carscoops report:
Renault has announced the sale of the 250,000th electric vehicle it's produced alongside partners Nissan. It also reports 15 percent sales growth through May of this year, when the alliance sold 31,600 EVs.

Curated from Renault-Nissan Hits 250,000 Electric Vehicle Sales

Yet the French government appear to be keen to cut back on subsidies:
Renault Australia boss Justin Hocevar has held up the delivery of the Renault Nissan Alliance's 250,000th electric car as evidence the Australian government has the wrong approach to motoring.

The partnership sold the landmark car, a Renault Zoe hatch, to French resident Yves Nivelle, who took advantage of a €10,000 ($14,500) subsidy to buy a €21,990 ($31,885) car for little more than half its retail price.

"The government's environmental bonus was a big factor in my decision to get an EV," Nivelle says.
The French subsidy encourages drivers to trade in older diesel models for a new electric car.

Curated from Government policy putting the brakes on electric cars: Renault
But Time magazine is still very excited about the prospects for new technologies exciting the marketplace:

In May, dramatic price cuts helped boost sales of models such as the Chevy Volt, and the month saw the most EV sales of 2015, according to InsideEVs. Still, the May 2015 EV sales total of 11,540 was 7% lower than May 2014. The Nissan Leaf, the overall electric-car category leader, has been struggling in particular. After failing to cross 2,000 unit sales in any month in 2015, the Leaf finally hit the mark in May. But through the first five months of the year, only 7,742 Nissan Leafs have been purchased, a decrease of more than 25% off last year's pace.

Curated from Electric Cars: Chevy Bolt, Nissan Leaf Offer Improved Driving Range, Low Price
Whether your main source of #business is electic, petrol or diesel we help find you a fantastic motor trade insurance quote for your business – get in touch today